Life can often dish out what feels like a series of beatings. After years of hard work, Flandreau Santee Sioux Tribe member Tracii Barse has found his own way to beat back: drumming. "It's real intense and it's really exciting. It's adrenaline all day long," Barse says. He pounds his drum with pride at the tribe's ninth annual winter Wacipi (AKA Pow-Wow) – a traditional Native American gathering that celebrates life, pride, and honor.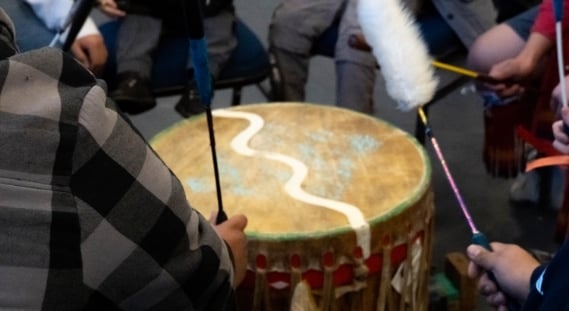 With every beat, every blast of the drum, you feel something beyond the earth-rattling boom, you feel the heartbeat of generations past, present, and future all culminating in one glorious ceremony. Chants passed down from generations ring out with every ounce of breath by Barse and his Native family. They send a wave roaring down your spine. Booming and chanting that inspires dancers, wearing traditional Sioux regalia, to stomp around the center of the arena and honor their ancestry and embrace their pride.

"It's all about healing," says Barse, the slender, six-foot tall man sporting glasses, a black button-up shirt contrasted by bright, traditional Native American tribal patterns, and tattoos that run along his arms to his hands. "We all go through things, and this town has gone through a lot. To see them all together right now – as happy as they are, is extremely enjoyable. I enjoy seeing all these kids laugh and run around and have fun."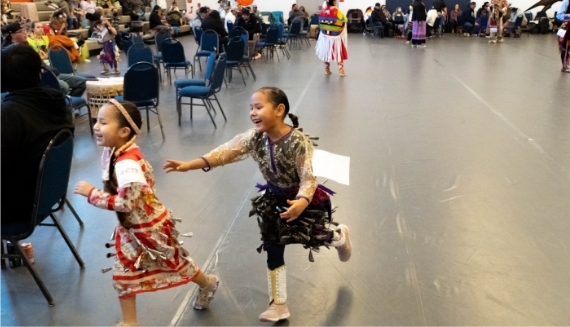 Barse grew up in Flandreau – home of the Santee Sioux. He says that during his youth, times weren't always easy, "We had addictions and alcoholics and all that stuff in my family, and so I grew up religious but at the same time dealt with alcoholism and addiction in my house," and other illnesses beyond that made things worse. "I got really sick when I was younger – with cancer, and I almost died… and I'm still fighting it," he said.

"I lost my way and this drum helped me find my way back," Barse says. "That's another thing I've been doing since I was a little boy, was making drums. First, I started off, kind of, by watching, and then the older I got the more I realized that there's hundreds of ways to make a drum – and I've learned like 20 of them."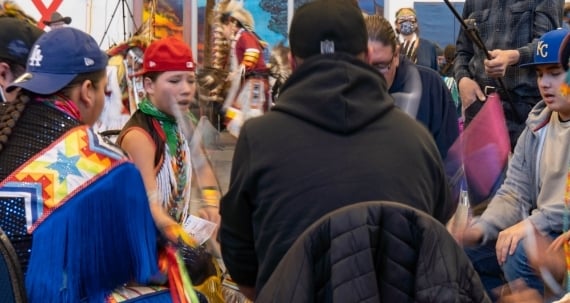 Eventually, Barse got caught up in gang activity around the reservation. "I struggled with what road I was on: I joined gangs. I was a gang member. I was a drug addict. I was an alcoholic. I was really violent. And I thought all that stuff is what makes a man 'cool.'"

That life cost him five years to prison.

While in the moment, he felt that life had him beat, in his darkest days he returned to a childhood love that helped him turn it all around. "I got to make three drums while I was in there. Three big, giant ones." Barse recalls having to pay for his own materials. "I can really see why some people that make furniture love it so much, because you're shaping this awesome thing and you're doing it. You don't feel alone when doing it because a lot of people are depending on it."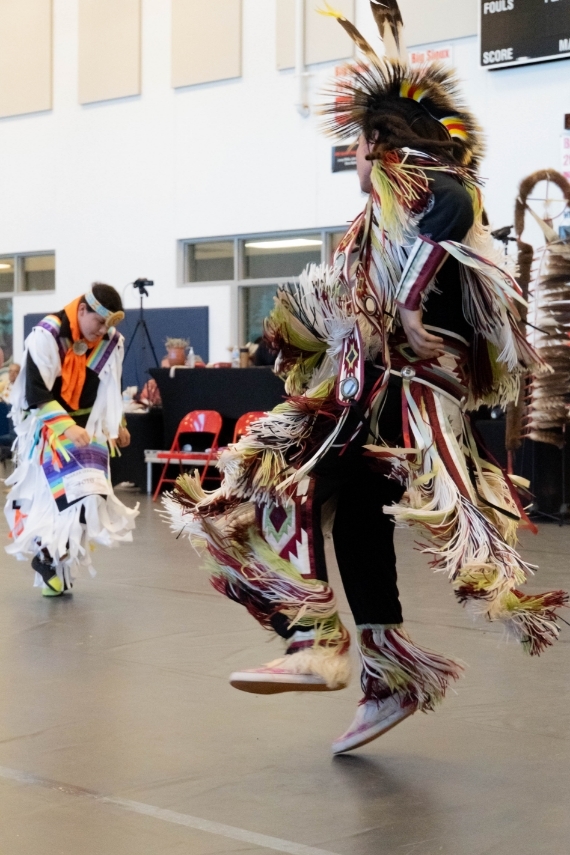 In late 2021, he was finally released from prison and moved back home only to find that he wasn't the only thing that changed.

"One night, I came home [to Flandreau] they had all this new stuff: the community center, the clinic. They didn't have this before I left. When I came back, it was all here." That's where he met Dustin Beaulieu, Director of the annual Wacipi. "And I asked them, 'Is anybody singing? Do you guys have a drum?' and they were like, 'Yeah, we've got one."

"We started off with just a small afternoon, community pow wow," recalls Beaulieu, who has now served as the director for three years, "Then it turned into a day, then it turned into a two-day thing, then it was a two-day for a few years… and this is the first year we're able to do a three-day, Friday, Saturday, Sunday."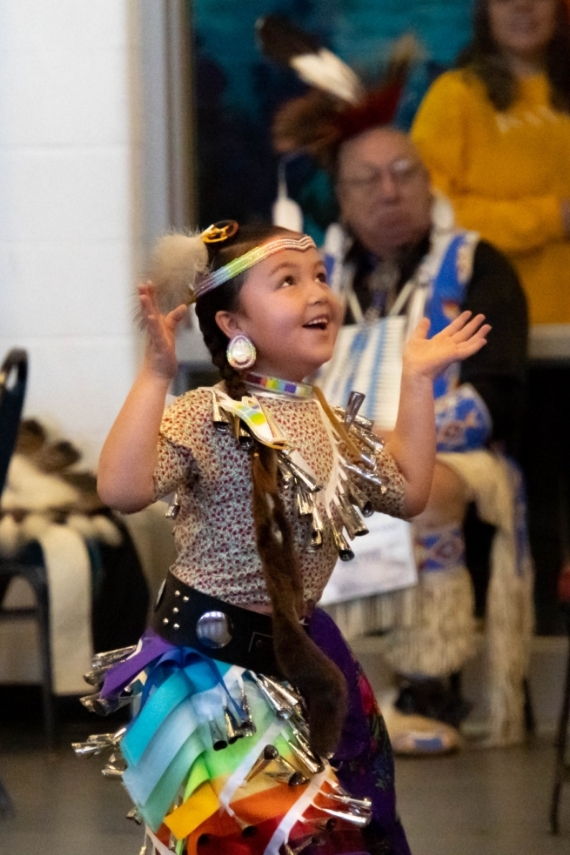 Beaulieu and the tribe work from mid-week through the weekend to set up an event that provides children and guests immersion in culture, history, and fun. "It's really exciting for me because people come, and – it's like if you came to my house, I'd make sure you had food and drink, a place to sleep, there's a spot with blanket, just hospitality and that's the best thing you can provide," he said.

The Tribe holds it in the town's community center gymnasium. Dancers of all ages perform to the beats blasted by the ten surrounding drum circles. "It's just simple. There's no extreme goal. There's no monetary goal. It's just providing a place for the kids to come and sing, dance, learn," Beaulieu said.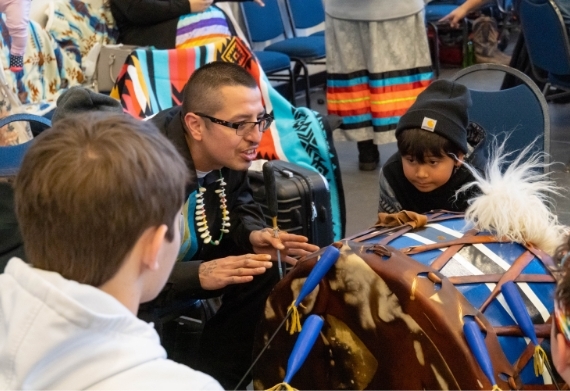 Barse leads one of the circles of kids, and it's like something flipped inside.

"Prison mentality is a lot of structure," said Barse, "and I didn't think I was going to be able to turn on the switch I turned off, but they came right in and flicked it right on." He goes on to say the kids remind him a lot of himself, and while he wants to teach them how to live better lives, they've taught him how to value his own, "They brought something out of me that I didn't think was still there."

He spends time making drums for the Wacipi and teaching kids the songs and chants that have been passed down for generations. "It's happiness. It's pride. I'm proud of them. I'm proud to see how they are. And I'm proud to see how they look out for one another," he says, "These kids – they're only from ages four to ten, and they respect each other and treat each other like brothers. They look out for one another."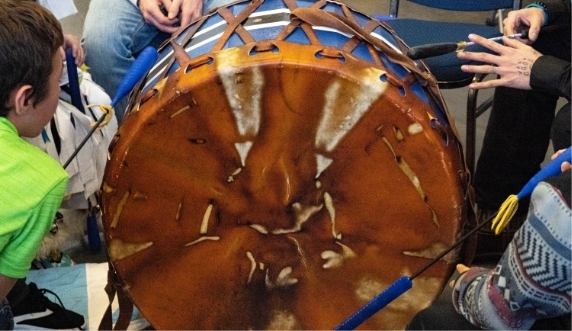 "Drums are like spirits," said Barse, "There's a spirit in everything." Including a newfound one in himself.

Barse currently works in the gift shop at the Royal River Casino in Flandreau. In his off time, you can find him still assembling drums for the Wacipi and anyone who needs one.

"If you're looking for something, maybe the drum can help you find it," he said